Life after death: how to reinvigorate UK high streets
Rising shop vacancies can be damaging for town centres. Innovative, impactful real estate investment can kickstart regeneration while tackling key social issues.
09/01/2023
The mainstay of UK high streets for much of the 20th century, retail is now in structural decline. The growth of e-commerce means councils and communities are now nursing an increasing number of vacant shops in town centres. Online sales represented 2% of total retail in 2005. In 2022 this number had risen to 27%.
Around one in seven shops and one in five shopping centres units are now empty.
Some town centres are now caught in a vicious cycle of boarded-up shops, declining attractiveness and falling footfall. At the same time, house building in the UK has been stubbornly below target for several decades. Existing housing stock continues to age and generally suffers from poor energy performance.
Regeneration is a major challenge. We believe there are innovative ways to tackle the problem. With the right investment, town centres can be simultaneously reinvigorated and made more resilient over the long-term.
Retail isn't dead, but it has moved on
Already under pressure from online sales, the pandemic triggered a wave of retailer insolvencies in 2020.
Some retailers like M&S and Next have decided to relocate to out-of-town retail parks. Rents and service charges on retail parks are generally lower than in town centres. Internal store layouts are typically more efficient, while easy car parking and often longer opening hours add to the retail park appeal for shoppers.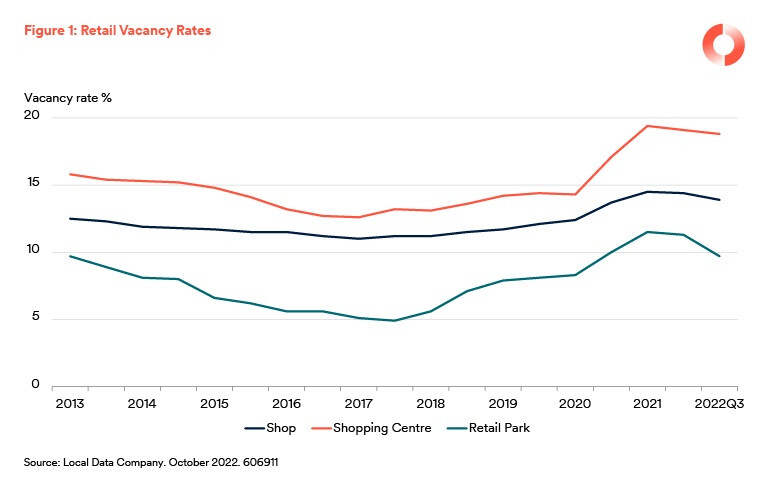 Fewer retailers in town centres has created space for more bars, coffee shops, restaurants and local independent retailers, but they have only partially filled the gap. Furthermore, another round of retailer insolvencies and closures seems likely over the next two years. Higher energy costs and interest rates are squeezing households and businesses alike.
Shop and shopping centre rents have fallen on average by 25-30% since 2017 and Schroders Capital forecasts that they will fall by a further 5% between end-2022 and end-2024.
Poorer towns hardest hit
Although all towns have been affected by the decline in high street shopping, poorer towns have generally been hit harder than more prosperous towns.
Figure 2 compares the percentage of vacant shops with the UK government's index of multiple deprivation in England. The most deprived towns are on the right and the least deprived are on the left.
While there are exceptions to the rule, in general more deprived towns ( e.g. Bolton, Hartlepool, Stoke-on-Trent) have a higher proportion of empty shops than relatively prosperous towns (e.g. Harrogate, Sevenoaks, Wokingham).
One obvious explanation for this relationship is that people in more affluent towns have more disposable income. That might also explain why some seaside towns with a tourist trade (e.g. Blackpool, Hastings, Margate) have fewer empty shops than might be expected given high levels of deprivation.
Increasing the number of bars, nightclubs and restaurants in a town is not a panacea. It can in fact lead to more anti-social behaviour and put more pressure on local police and hospitals.
Figure 2 also illustrates the limitations of trying to regenerate a town by building more retail space. The main reason why Gateshead and Rotherham have very high retail vacancy rates is that they neighbour the Metrocentre and Meadowhall shopping centres, respectively.
Both centres were built in the late 1980s on former industrial sites and benefited from government regeneration schemes. However, while the centres have been successful in attracting shoppers from a long distance and generating new jobs for local people, they have taken trade away from existing shops.
We have previously written on place based impact investing, and how, appropriately deployed, it can help address geographical inequalities in deprivation.
What are the most impactful uses of town centres?
Clearly, trying to regenerate town centres by building more retail space is now a broken model. The solution must be to improve the mix of uses in town centres bringing footfall, life and vitality back. Empty shops, department stores and even shopping centres can be replaced with green spaces, medical centres, offices, workshops, colleges and housing.
On a positive note, around 9,000 retail units are currently being converted to other uses according to the Local Data Company. This can often include local community, voluntary and social enterprises, on flexible lease terms and helping mitigate landlords empty rates and service charge liabilities. To put the number in context though, estimates suggest there are around 70,000 empty retail and leisure units. The looming recession means the number is likely to increase over the next couple of years.
Housing
At the national level there is an oversupply of shops and shortage of housing. Converting or demolishing empty shops and replacing with them with town centre housing looks like a neat way to kill two birds with one stone.
Town centres generally benefit from extensive road, rail and public transport infrastructure as well as proximity for residents to employment, civic, retail and leisure uses. In turn, residents living in town centres bring increased demand and spend for local retailers and businesses that may otherwise be bypassed. The lifestyle may not appeal to all, but modern buildings benefit from significantly improved energy efficiency and can increasingly be delivered with reduced embodied carbon.
It is important that the new housing addresses local needs. The majority of towns have a shortage of social and affordable housing. Some towns though, have a surplus, and need more private housing to provide a mix of tenures. Another facet is the shortage of housing for older people, which will become more acute as the population ages.
It stands to reason that a number of older people would benefit from living in their town centre, close to shops and other amenities. An increase in sheltered housing and retirement villages could free up family homes currently occupied by just one, or two people.
Work spaces and healthcare
In addition to building more homes in town centres, many towns also lack good quality offices, workshops and health facilities.
Although the shift to hybrid working means there is an oversupply of office space, most of the vacant space is secondary. High quality offices can help employers to attract staff, including new graduates who might otherwise leave their home town. High quality office space could even encourage businesses to relocate from elsewhere.
Likewise, despite the increase in NHS capital spending since 2015, there is an urgent need to build new medical centres. In its December 2022 report entitled "Building the Future: Estates Infrastructure", the BMA highlighted that 40% of doctors consider that the poor state of medical centres and hospitals is affecting patient care.
More liveable cities
Another priority is to make town centres more sustainable, and to improve people's health and wellbeing.
Providing more housing in town centres and increasing the variety of jobs and other amenities should encourage people to walk, or cycle, rather than travel by car. This would help cut carbon emissions and improve air quality. An academic research paper by Marseille et al (December 2020) on urban biodiversity suggests that parks and green spaces not only encourage people to exercise, but also have a positive impact on their mental health.
Carlos Moreno's "15 Minute City" concept is the latest in a long line of planning frameworks stretching back to Ebenezer Howard's "garden city" movement, which promotes the benefits of mixed use, inclusive neighbourhoods. The central idea is that people should not have to walk, or cycle more than 15 minutes from their home in order to find work, shop, or access education and healthcare. Some specialist jobs like university lecturer, or amenities like sports stadia, will only exist in certain places. Even so, the aim of increasing peoples opportunities without requiring them to travel more makes a lot of sense.
Figure 4: The 15 Minute City
Source: The Urbanist, August 2021
The challenges of regeneration
Diversifying town centres away from retail makes a lot of sense but won't be easy. Fragmented ownership has always been a problem. The failure of department stores and/or shopping centres - which cover large single ownerships - presents a unique opportunity to deliver these changes. We do anticipate hurdles, where vacancies are not all clustered together or where the market reality (the selling price) of retail units doesn't meet landlord expectations.
Redevelopment plans must also clearly benefit local communities, seeking buy-in as well as input. Another key and often overlooked factor is leadership and trust amongst local councillors, business people, academics, non-profit organisations and other stakeholders.
A final potential obstacle is finance.
In more prosperous towns, competing demand for sites should keep residential and commercial prices high enough to make projects viable. In towns such as Harrogate, Sevenoaks and Wokingham retail vacancy is low, because developers have already started to demolish, or convert empty stores.
By contrast, finance is often a major hurdle in relatively deprived towns. Low real estate prices mean that construction costs can exceed the value of new projects.
On the plus side, the government has announced a series of different measures designed to kickstart regeneration schemes.
These include:
• Future High Streets Fund (£1 billion)
• The Towns Fund (£2.6 billion)
• The Community Ownership Fund (£150 million)
• The Getting Building Fund (£900 million)
• The Brownfield Housing Fund (£400 million)
• The Levelling Up Fund (£4.8 billion)
The total amount is small in relation to the size of the problem, and designed to facilitate and unlock further investment from the private sector, such as UK pension funds. Further, oneoff grants do not cover the on-going costs of running new facilities and they may prevent councils from developing long-term regeneration plans.
The opportunity in renaissance
Although the structural decline of store-based retailing is problematic, it is creating an opportunity to re-invent our town centres and make them more diverse, interesting and sustainable.
Solutions should vary from place to place according to local requirements, but part of the answer is likely to involve new housing. This will help reduce the pressure on greenfield land and increase the vitality of town centres. Regeneration is more difficult in less affluent towns. Government support should foster positive momentum, attracting private capital that can deliver meaningful change and social impact while earning an appropriate financial return.
Important Information:
This document is issued by Schroder Investment Management Australia Limited (ABN 22 000 443 274, AFSL 226473) (Schroders). It is intended solely for wholesale clients (as defined under the Corporations Act 2001 (Cth)) and is not suitable for distribution to retail clients. This document does not contain and should not be taken as containing any financial product advice or financial product recommendations. This document does not take into consideration any recipient's objectives, financial situation or needs. Before making any decision relating to a Schroders fund, you should obtain and read a copy of the product disclosure statement available at www.schroders.com.au or other relevant disclosure document for that fund and consider the appropriateness of the fund to your objectives, financial situation and needs. You should also refer to the target market determination for the fund at www.schroders.com.au. All investments carry risk, and the repayment of capital and performance in any of the funds named in this document are not guaranteed by Schroders or any company in the Schroders Group. The material contained in this document is not intended to provide, and should not be relied on for accounting, legal or tax advice. Schroders does not give any warranty as to the accuracy, reliability or completeness of information which is contained in this document. To the maximum extent permitted by law, Schroders, every company in the Schroders plc group, and their respective directors, officers, employees, consultants and agents exclude all liability (however arising) for any direct or indirect loss or damage that may be suffered by the recipient or any other person in connection with this document. Opinions, estimates and projections contained in this document reflect the opinions of the authors as at the date of this document and are subject to change without notice. "Forward-looking" information, such as forecasts or projections, are not guarantees of any future performance and there is no assurance that any forecast or projection will be realised. Past performance is not a reliable indicator of future performance. All references to securities, sectors, regions and/or countries are made for illustrative purposes only and are not to be construed as recommendations to buy, sell or hold. Telephone calls and other electronic communications with Schroders representatives may be recorded.