PERSPECTIVE
3-5 min to read
Three ways gender issues matter to investors
Ahead of International Women's Day tomorrow, we look at the ways gender diversity and female empowerment are live issues in investing.
07/03/2022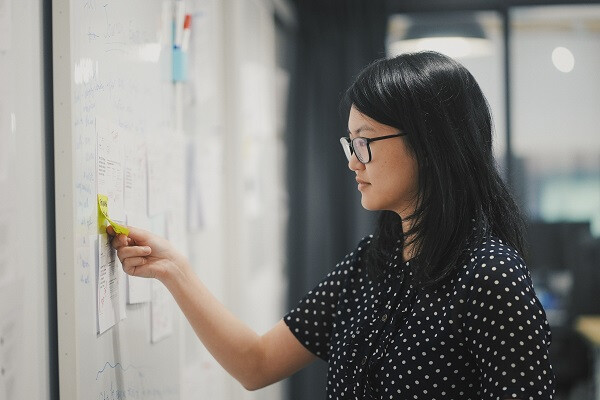 A fresh call to action for accelerating women's equality will be marked tomorrow with the celebration of International Women's Day 2022. Each year on March 8, for more than a century, groups from around the world have championed the social, economic, cultural and political achievements of women.
The event will encourage collective action from building workplaces where women thrive to forging women's empowerment worldwide.
Here are three ways gender issues matter to investors.
Diversity is linked to better decision-making and performance
Research from consulting firm McKinsey & Company has found greater diversity across genders and ethnicity to be strongly correlated to higher profitability and value-creation.
Its 2021 report Diversity wins is its third investigating the business case for diversity and suggests "the relationship between diversity on executive teams and financial outperformance has strengthened over time".
Kate Rogers, Head of Sustainability for Schroders' Wealth business, which includes Cazenove Capital, says: "Diversity is linked to better decision-making. There have now been plenty of academic studies to demonstrate this is the case."
"Research from Knight Foundation and McKinsey & Company has suggested diverse teams are 35% more likely to earn above average returns. Yet 98.7% of all assets in the US are managed by white men. It's relevant to both the finance world and the companies we are invested in. I believe it is our responsibility to keep breaking down barriers."
According to McKinsey & Company, "diversity winners" are adopting systematic, business-led approaches to inclusion and diversity.
France is among European countries to have introduced quotas, but Kimberley Lewis, Schroders' Head of Active Ownership, says: "Our role is to ask companies to voluntarily increase their gender diversity without regulation because they recognise it is best for their business."
Action to increase gender diversity is working (and more is needed)
Asset managers like Schroders can use their influence to help drive change at companies through their interactions and rights to vote at company AGMs.
Diversity and inclusion is one of the active ownership team's priorities for 2022, first set out in December last year, and this goes beyond gender diversity at the board level.
Kimberley says: "We urge companies to understand that this is the direction of travel and that they should have a plan and targets to achieve."
To give an example of how it is a live issue, the UK's first report of the FTSE Women Leaders Review was published last month. It announced four new recommendations and has highlighted progress across the FTSE 350.
Kate Rogers says: "In the UK we have seen good progress recently. Women now make up almost 40% of the boards of FTSE 100 companies, our biggest listed firms. That's compared with only 12.5% a decade ago. It shows that intentional action can – and is necessary to – combat the imbalance."
"We can expect to see targets increased, more smaller companies to come within scope and a deeper look at roles beyond the board. There is increasing recognition of the importance of intersectionality.
"For example Black, transgender and disabled women and those from less privileged socio-economic backgrounds have even less of a voice and representation in leadership. We also need to see more women in leadership roles more generally. This has implications for talent management, flexible working and returner programmes that help retain and promote female talent."
Katie Frame, an active ownership manager at Schroders who specialises in diversity, agrees.
She says: "There is still so much progress to be made on gender diversity. Even when we take a market like the UK where we've set these ambitions for gender diversity on boards, what we're trying to achieve is still not a 50:50 gender split. Then when you look at a market like Japan we have much further to go. And the situation is even worse when we look at women of colour, for example. It's also not just about the raw numbers. We, of course, need to consider the culture and inclusivity."
Gender-lens and social impact investing can contribute to solutions
As Maria Teresa Zappia, Chief Impact Officer and Deputy CEO of BlueOrchard, the impact investment manager which is part of the Schroders Group, wrote last summer: "Amid the global crisis gender-lens investing is crucial for continuing progress in women's empowerment and enhancing their contribution to society".
Impact investing, where money is put to work in a way that has a specific, measurable and positive benefit to society or the environment, often uses the United Nations' Sustainable Development Goals (SDGs) as a framework.
Meanwhile, gender-lens investing is an approach that takes gender-based factors into consideration to both advance gender equality and inform decisions.
According to research from the UN on the impact on women of the Covid-19 pandemic, 70% of female workers in developing countries operate in the informal economy. This means they do not have access to vital services such as health insurance and unemployment benefits and are more likely than men to fall into poverty.
Women also take on 75% of unpaid care work globally, a study by McKinsey and Company has found, which is significantly lowering their chances of accessing higher-quality, high-wage jobs.
Maria Teresa Zappia argues that the pandemic has already threatened the achievement of the UN SDG of gender equality and women empowerment by 2030.
Microfinance investment can empower female entrepreneurs and contribute to closing the credit gap. Sometimes called microcredit, microfinance is a type of banking service provided to low-income individuals or those who would otherwise not have access.
She says: "Effective gender-lens investing is essential for supporting the women who act as the backbone of a society in line with the UN's SDG targets. Financial inclusion can be one of the contributing elements to trigger the needed change."
What is Schroders doing to support gender balance? 
Schroders signed up to the Women in Finance Charter in May 2016, a pledge for gender balance across financial services in the UK. The business originally set a target of 30% female representation in senior management roles by the end of 2019, up from 25% at the end of 2015. Schroders achieved its initial target of 30% females within senior management positions during the first quarter of 2017 and in March 2020 reached 33% female representation. A new goal of 35% female representation at senior management by 2023 has been set.
Our Gender Equality Network helps raise awareness of gender equality in the workplace and ensures that there are more visible role models at different levels of the organisation.
What are the goals of The Diversity Project on gender?
The Diversity Project is a group of leaders in the investment and savings profession that decided to take action to accelerate progress towards an inclusive culture within our industry.
Schroders is proud to support The Diversity Project, which celebrated its fifth anniversary last year and has set out ambitious new targets to accelerate progress towards a more inclusive investment industry over the next five years.
On gender these targets include reaching 20% female fund managers by 2026, gender pay gaps being reduced by a third from 2019, 50:50 male: female graduate and school-leaver recruitment and equal take up of stocks and shares ISAs by female and male customers.
This month The Diversity Project is launching the Futures Female Fund Managers Programme with the aim of encouraging more females into fund management.
Schroders' chief executive Peter Harrison, who is on the advisory board of The Diversity Project, says: "Schroders is delighted to be a founding supporter of this great initiative to tackle the obstinate problem of a scarcity of female fund managers. We look forward to working with the Diversity Project and seeing more women become fund managers as a result of the targeted programme."
>> For more about inclusion and diversity at Schroders, visit the working here section of our website.
Topics
Sustainable Development Goals