The re-opening of the world economy continues and economic activity has picked up substantially. However, the strength of the rebound in demand has caught firms by surprise and supply chains are stretched with the consequence that inflation has picked up.
In this update we remain optimistic about the outlook for the world economy, but we leave our forecast for global growth unchanged and are raising our inflation forecast. This marks a change from the last year where we had been consistently raising our growth forecasts.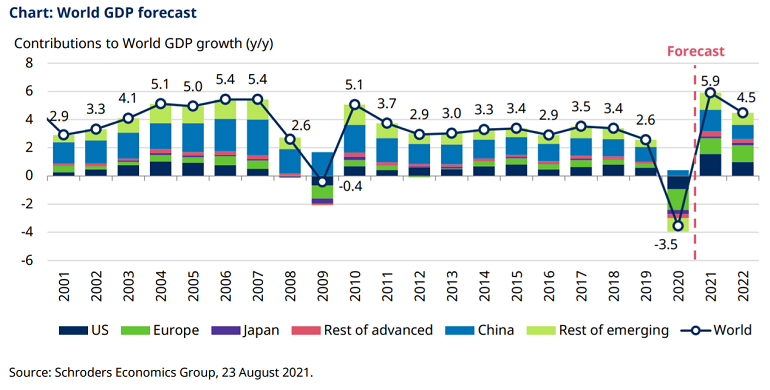 We still expect a robust recovery in the world economy, but at the margin the forecast has moved in a stagflationary direction as growth momentum fades and price pressures rise. The initial acceleration stage of the recovery is over and we are in a new phase where supply constraints are having a major impact on the cycle.
Signs of a peak in global growth can be seen in business surveys with the Purchasing Managers indices (PMIs) rolling over, first in the emerging markets (EM) and then in the developed economies (DM). The recent weakness in industrial metals, particularly copper prices, is consistent with a slowdown in industrial activity.
Shortages of labour and key components weigh on output
The increasing spread of the delta variant is being blamed for the slowdown and is becoming more of a drag on activity particularly in Asia. Delta is exacerbating the principal headwind facing the world economy. That is, a shortage of capacity where firms have run into bottlenecks and have had to ease back production for a lack of components. Order levels are high, but backlogs and delivery times are at record levels. The result has been an increase in prices as buyers chase scarce supplies.
Production is also being constrained by a lack of labour. This may sound surprising at a time when unemployment rates are well above average, but the speed of reopening combined with a lack of forthcoming applicants means many vacancies are going unfilled. Economies such as the UK which have depended on the flow of labour from overseas have been particularly badly hit with work visas down by more than a third in the year ending March 2021.
More generally, worker shortages have been attributed to a reluctance to increase social contact, waiting for face-to-face teaching to restart rather than have to make childcare arrangements and, in the US, some are still better off on enhanced unemployment benefits.
We expect these shortages to ease in the US and the return of workers after Labor Day on 6 September will be critical. However, comments from companies and analysts suggest that other inputs will remain scarce and we expect bottlenecks to persist until the end of the year and even into next year for some items such as semiconductors.
Fed to start policy normalisation ahead of the ECB and BoE
For the US, the pivot toward tighter policy which we anticipated has largely occurred. The latest minutes from the Federal Open Market Committee (FOMC) noted that, "provided that the economy were to evolve broadly as they anticipated, they judged that it could be appropriate to start reducing the pace of asset purchases this year." We still expect an announcement at the 22 September FOMC that tapering will begin at the end of the year at a pace of $10bn per month.
There is a case for a faster tapering of policy as there seems little point in stimulating demand in an economy suffering from supply side problems. However, the Fed is likely to tolerate the higher inflation that this brings. We still expect the first interest rate hike at the end of 2022.
Meanwhile, although we have raised our growth and inflation forecasts for the eurozone, we do not expect the ECB to tighten policy until 2023. We still don't expect inflation to be sustainably at or above the 2% threshold needed to prompt the central bank to act over the forecast period. We also expect the Bank of England to be on hold until 2023. This divergence in policy underpins a stronger outlook for the US dollar over the forecast.
Important Information

The contents of this document may not be reproduced or distributed in any manner without prior permission.

This document is intended to be for information purposes only and it is not intended as promotional material in any respect nor is it to be construed as any solicitation and offering to buy or sell any investment products. The views and opinions contained herein are those of the author(s), and do not necessarily represent views expressed or reflected in other Schroders communications, strategies or funds. The material is not intended to provide, and should not be relied on for investment advice or recommendation. Any security(ies) mentioned above is for illustrative purpose only, not a recommendation to invest or divest. Opinions stated are valid as of the date of this document and are subject to change without notice. Information herein and information from third party are believed to be reliable, but Schroder Investment Management (Hong Kong) Limited does not warrant its completeness or accuracy.

Investment involves risks. Past performance and any forecasts are not necessarily a guide to future or likely performance. You should remember that the value of investments can go down as well as up and is not guaranteed. You may not get back the full amount invested. Derivatives carry a high degree of risk. Exchange rate changes may cause the value of the overseas investments to rise or fall. If investment returns are not denominated in HKD/USD, US/HK dollar-based investors are exposed to exchange rate fluctuations. Please refer to the relevant offering document including the risk factors for further details.

This material has not been reviewed by the SFC. Issued by Schroder Investment Management (Hong Kong) Limited.