It's no exaggeration to say that 2022 has been the worst year for credit in recent memory. However, with valuations on both government and corporate bond markets looking attractive again, there is much to be encouraged about as we move into 2023.
Financial markets are starting to adjust to a new market environment – one in which central banks continue to become more hawkish and move away from the era of quantitative easing (QE), while inflation is expected to reach its peak.
However, concerns about global recession remain high, although it is still too early to say how deep or protracted the downturn will be.
Greater dispersion and attractive valuations
With emerging market central banks having already raised interest rates meaningfully, developed markets have followed suit in tightening financial conditions in 2022 with a series of rate hikes. The higher financing costs have started to squeeze growth and we should see interest rate-driven volatility in bond markets subside in 2023.
The subsequent repricing of government and corporate bond markets has made valuations attractive on both a spread and an absolute yield basis. Corporate fundamentals are strong as we enter a slowdown and some deterioration is expected over the year. In fact, current valuations are mostly reflecting poor sentiment in 2022, providing a great income profile for global credit with a lot of bad news already priced in.
Global credit yield (US$ hedged)
Inflation, which has been the key concern of the market, may be close to reaching its peak. Things are looking up in the US, where inflation data is showing signs of stabilising and even declining. European inflation, exacerbated by the war in Ukraine, is also expected to peak, but lag the path of US inflation.
The greater dislocations and spread ranges within the market, as well as the greater distinction between sectors, will allow for not only better sector allocation but, more importantly, for the global credit market to move back to the fundamentals. This creates an opportunity for active global credit investors to generate strong returns in the new year.
€ IG corporate spread dispersion – provides good alpha opportunities
In the words of Saida Eggerstedt, Head of Sustainable Credit, governance will stay in focus in a dispersed credit market and disclosure by investee companies will need to improve with regulators as well as our clients who are asking deeper ESG questions.
Corporate fundamentals have stayed strong, but some deterioration can be expected
Corporate fundamentals have stayed strong throughout 2022, but there are possible earnings challenges up ahead as a slowing economy weighs on sales growth. This could cause challenges for cyclical sectors where earnings usually fall more in downturns.
The key challenge for companies in 2023 will be slowing global growth and the possible deterioration of consumer strength as prolonged high inflation keeps eating away at the purchasing power of consumers.
Slowdown on the horizon
The BAML MOVE index, which measures US interest rate volatility, more than doubled during the course of 2022, but has now fallen significantly. Yet, it still remains elevated. This reflects the fact that the Federal Reserve (Fed) is further along in its hiking cycle than other developed markets.
The aggressive nature of rate rises has led to significant spread volatility. This volatility will, however, decrease once the Fed pauses or slows the rate hikes.
Although governments are implementing fiscal measures to help consumers and business, these do put into question country deficits and general debt sustainability over the medium to long term.
Currency hedging costs have now moved in favour of European credit, which is a material change from the recent QE years when US credit was favoured. This shift has made European credit very appealing for foreign investors.
Peak to trough drawdown for US$ IG corporate index worst in over 45+ years – but subsequent returns post crisis have been healthy historically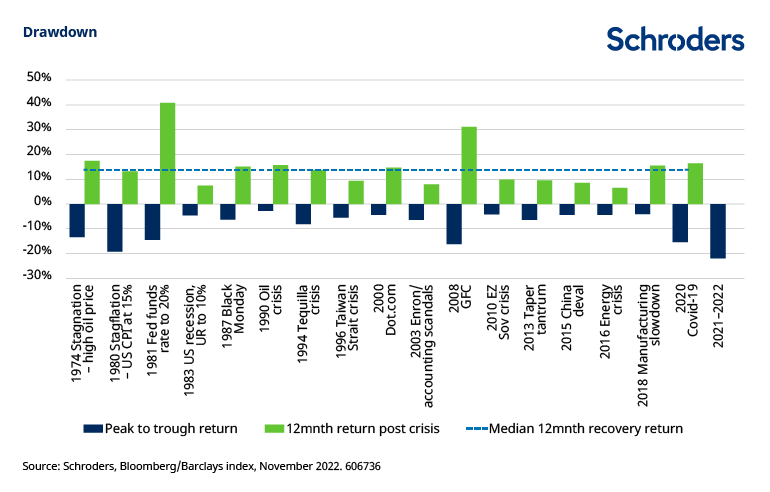 The recovery of Asia investment grade credit
In Asia, the credit market faced several headwinds throughout 2022, caused by hawkish central banks, geopolitical tensions, and China's zero-Covid policy and housing market woes. However, it looks as if valuations have now reached levels that are starting to look attractive for long-term investors.
The JP Morgan Asian Credit (JACI) index currently yields 7.6% and is at the highest pick-up compared to Asia Pacific Ex-Japan dividend yields since the global financial crisis in 2008.
The Asia high yield market, however, is likely to stay volatile with elevated idiosyncratic risks, particularly for China property.
Sustainability focus
The green bond market is likely to continue to grow next year after green bonds dominated the issuance within ESG corporate bonds this year. In addition, there might also be further issuance of sustainability linked bonds (SLBs) in the high yield bond market in 2023.
Quoting Saida Eggerstedt, interest for investing in social impact through public credit market is also likely to grow. This will mainly focus on human capital, but also circular economy and preserving nature will be big themes in 2023 as all these have a longer-term effect on health, food and water systems, as well as inequality.
Managing risk through active global strategy
Despite the improved outlook for credit in 2023, some concerns still remain, especially in the form of a synchronised global recession.
This risk is best managed through active management and a diversified portfolio with the flexibility to pivot across regions, industries, ratings and issuers. The year is likely to be rich with opportunity and nimble investors will be rewarded.
Important Information

The contents of this document may not be reproduced or distributed in any manner without prior permission.

This document is intended to be for information purposes only and it is not intended as promotional material in any respect nor is it to be construed as any solicitation and offering to buy or sell any investment products. The views and opinions contained herein are those of the author(s), and do not necessarily represent views expressed or reflected in other Schroders communications, strategies or funds. The material is not intended to provide, and should not be relied on for investment advice or recommendation. Any security(ies) mentioned above is for illustrative purpose only, not a recommendation to invest or divest. Opinions stated are valid as of the date of this document and are subject to change without notice. Information herein and information from third party are believed to be reliable, but Schroder Investment Management (Hong Kong) Limited does not warrant its completeness or accuracy.

Investment involves risks. Past performance and any forecasts are not necessarily a guide to future or likely performance. You should remember that the value of investments can go down as well as up and is not guaranteed. You may not get back the full amount invested. Derivatives carry a high degree of risk. Exchange rate changes may cause the value of the overseas investments to rise or fall. If investment returns are not denominated in HKD/USD, US/HK dollar-based investors are exposed to exchange rate fluctuations. Please refer to the relevant offering document including the risk factors for further details.

This material has not been reviewed by the SFC. Issued by Schroder Investment Management (Hong Kong) Limited.