PERSPECTIVE
3-5 min to read
Green growth: a low-carbon dream?
Reducing global production and consumption is gaining traction as a potential solution to the climate crisis. However, we think green growth is possible and highlight why investors should care.
11-26-2019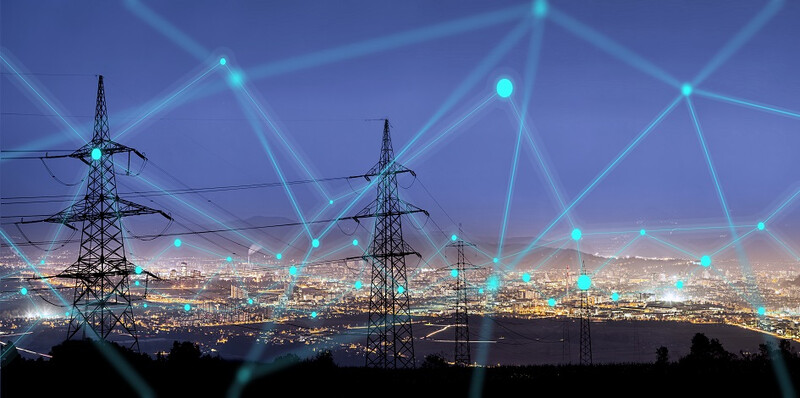 The world is looking for solutions to fight the growing threat of climate change and meet the targets set out in the Paris Agreement. Given the insufficient progress so far, "de-growth", a reduction in global production and consumption, is seen as an increasingly realistic, last resort measure to truly halt climate change. 
However, we are not convinced that this is a workable solution and believe that as new, more sustainable technologies become cost-effective, large-scale green growth can be possible. The unavoidable disruption ahead will be driven by both changing regulatory frameworks and technological advances, creating considerable growth opportunities for the right business models.
Policy push towards decarbonisation
Policies supporting green growth are becoming ever more favourable. These include commitments by an increasing number of countries, including France, the UK and (very likely) Germany, to become carbon neutral by 2050 and the phasing out of internal combustion engine (ICE) vehicles. Although more needs to be done, these are steps in the right direction and these are expected to increase in the near future.
This policy push is supported by growing demand for action to halt climate change from the general population. Protests and civil disobedience, as evidenced by the recent global protests by Extinction Rebellion, have been on the rise. The Global Climate Strike in September 2019 was a week of global protests in advance of the UN Climate Summit in New York with millions of people around the world taking part – the largest climate strike in history. This puts policymakers increasingly under pressure to advance climate action, favouring business that provide the necessary products and services to decarbonise the global economy.
Technology pull: are markets underestimating the rapid uptake of climate technologies?
Given the uncertainty and non-linear nature of the adoption of new technologies, markets tend to underestimate the potential for rapid expansion of climate technologies once they become cost-effective. The most obvious example is energy from onshore wind and solar, both of which are now more cost-effective than coal-powered energy.
While not yet as efficient as onshore wind, the amount of electricity generated by offshore wind alone is expected to grow by almost 20% a year over the next decade and could be the single biggest source of power generation in Europe by 2040. The reason for this growth is that offshore wind yields a higher power production and has a less variable output than onshore wind and solar power. This makes it more similar to a "baseload" power source with the potential to meet the world's electricity demand 11 times over by 2040.
Accounting for about 20% of global CO2 emissions, transport is a sector that is also expected to be significantly disrupted by decarbonisation. Although EVs currently account for less than 1% of existing global stock,  this figure is set to rise. The distance EVs can travel before needing to be recharged is quickly expanding, with many EVs now having ranges of more than 200 miles.
As the range increases and prices for EVs versus conventional ICE vehicles fall, the market will reach a tipping point where EVs become economically more attractive. This will lead to the rapid, large-scale adoption of EVs. Governments around the world have already begun to set targets for when the sale of traditional vehicles will end. This ranges from 2040 in the UK to 2025 in Norway, where EVs already account for 50% of all vehicle sales.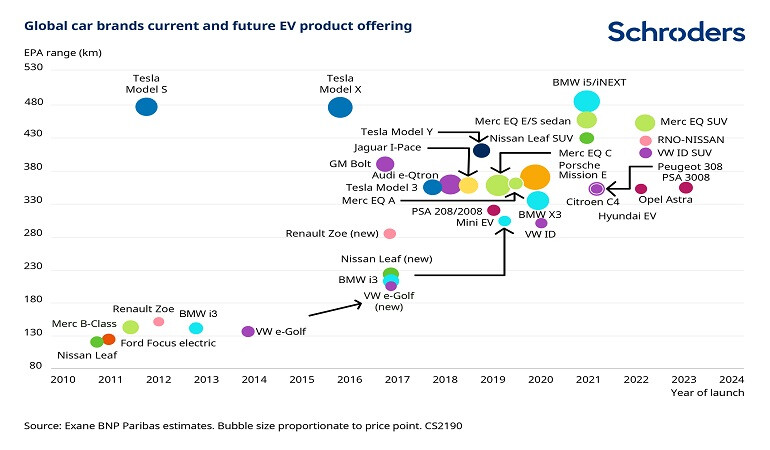 Green growth is an achievable reality, yet beware when picking the winners and losers
Although de-growth will occur in sectors and businesses not prepared for climate change, attractive growth opportunities will present themselves in places that enable mitigation of and adaptation to climate change. Green growth is not a dream, but an achievable reality when political push and technological pull factors work in tandem, resulting in one of the most disruptive inflection points for decades to come.
The views and opinions contained herein are those of Schroders' investment teams and/or Economics Group, and do not necessarily represent Schroder Investment Management North America Inc.'s house views. These views are subject to change. This information is intended to be for information purposes only and it is not intended as promotional material in any respect.