How sustainable are "fast fashion" businesses?
Find out how some major fashion companies rank in our sustainability analysis.
07-27-2021
The expression "fast fashion" is used loosely by both consumers and investors. For some it means clothes that are worn once or twice and then discarded. For others it means brands that respond quickly to the latest trends and get the right clothes in stores before the fashion changes. Depending on your view, this could be positive or negative for fashionistas, workers in the supply chain, and the planet. 
Sustainability is increasingly driving consumers' choice of brands and investors' choice of stocks, so it is important for us to develop a consistent and robust framework to appraise this industry. 
As with other sectors, and indeed sub-sectors, an investor has a myriad nuances to contend with. For every stock investors choose to buy, hold or sell, they need to be comfortable with their reasoning. That requires deep examination. 
Judging by Boohoo's share price crash after the emergence of a labour rights scandal in 2020, time spent discussing these issues is more than justified. In fact, you could say these debates are not being had often enough. But trying to assess the true impact a fashion company makes on the environment and society is not straightforward. As investors, we are faced with varying levels and quality of data and information.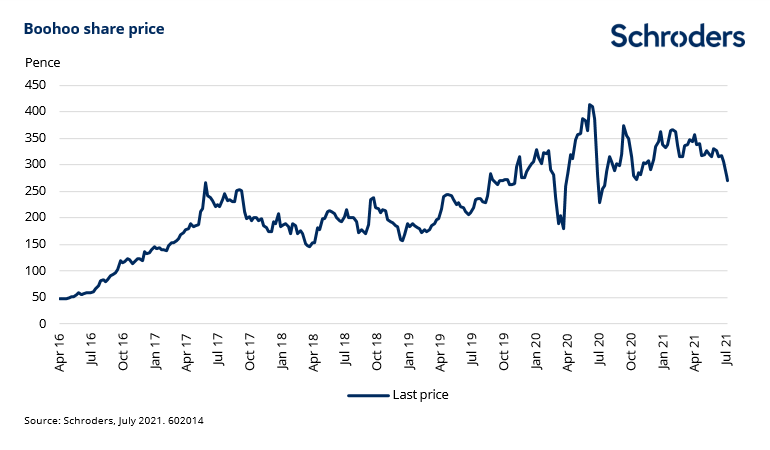 Past performance is not a guide to future performance and may not be repeated.
How we're assessing which fashion businesses are most sustainable
To address these challenges, we created a framework to help us assess how sustainable fashion companies are.  
We've picked a selection of environmental and supplier-focused metrics to focus on. For the environment, this includes emissions, water and hazardous chemicals, and the use of sustainable materials. We also appraised companies' efforts around creating a circular fashion ecosystem, whether via recycling or encouraging reuse. 
For suppliers and human rights, it's about the standards the brands hold their suppliers to, the extent to which the supply chain is transparent and audited, and the whistleblowing and remediation measures in place for when things go wrong. 
When it comes to the "disposability" factor we recognise that we will never know exactly how many times consumers use different products. This is an area where non-governmental organisations (NGOs) such as the Ellen MacArthur Foundation are developing metrics and evidence but it is a nascent area of investigation.
But we do know that some products are worn more times than others and we have done our best to find a proxy for this, using a number of objective and subjective metrics.  We are not saying that our measure definitive and it will be revised over time as new evidence emerges but we believe we have formulated a meaningful overlay for our appraisal as described below.
Take the hypothetical example of a T-shirt that has -100 units of negative impact on the environment. If that T-shirt is worn twice then the negative impact is -50 units per use; if it's worn 20 times then that drops to -5 units per use. The difference is massive. 
While there are numerous credible reports on the fashion industry's social and environmental impact, we have added this critical concept of "disposability" to reflect the way products are used.  
On the objective side we considered the average price point of each brand's range - higher price points suggest the item will have to be worn more times. On the subjective side we took survey data covering consumers' perception of the quality and fashionability of products – higher quality products would tend to be worn more often and more fashionable products might go out of style quicker and hence be worn fewer times. 
Of course, none of these measures is perfect right now and we should expect them to develop over time. However, without developing some kind of proxy the scorecard would fail to reflect one of the most fundamental differentiators between these firms as other targets become more standardised (e.g. CO2 reductions).
What did we find?
Of the businesses we scored, Adidas was the leader and Primark/ABF came in last. The below table ranks how company's score based on our chosen social and environmental metrics and adjusted for our disposability measure. The raw score is the score without the disposability adjustment.  
This sample aims to take an initial view on some of the biggest listed apparel and sporting goods names by market capitalisation, creating a relevant snapshot of the most widely discussed names by both investors and consumers alike. Owing to their size, these names also provide the most complete data sets (through their own reporting and third party assessments) to facilitate an effective assessment framework. We will continue to expand the list over time.
For the most part, companies scored within a pretty tight range when assessing social impact, perhaps unsurprising given the pressure exerted by investors on large names to improve disclosure and performance here. A certain level of standardisation has emerged as a result.  
One interesting finding was that we noticed a change in score for Primark when adjusting for disposability.  
Primark has taken significant steps to improve supply chain standards since the Rana Plaza crisis in 2013. This was an incident in which a building containing five garment factories in Bangladesh (including one that manufactured apparel for Primark) collapsed. Over 1,100 people were killed and more than 2,500 injured as a result, including women and children workers. 
The improvement measures implemented by Primark result in a strong social score according to our model. This serves to somewhat offset the company's poor environmental performance where it is ranked bottom of the pile.   
Having developed a separate disposability score, we used this to act as a multiplier to increase the importance of what we feel is a fundamental issue often missed by company reporting, with scores leading to a range of 0.85x-1.15x the raw score being applied.  
Using our multiplier to account for the high degree of disposability associated with Primark, we're left with an adjusted score that is worse than the raw score. This signals to an investor that this name requires monitoring despite potentially better-than-expected raw present performance.  
This impact is also noticeable with a name like H&M. The brand is regarded by many as an ESG leader due to its favourable environmental practices but given consumer perceptions and  behaviour regarding disposability, H&M falls from second to fifth place in our rankings.  
Of course, the ranking can serve to signpost opportunities as much as flagging sustainability risks.  
Adidas ranks first on the basis of raw scoring, but we feel the extra push provided by the disposability multiplier is an accurate representation of the company's approach to genuine sustainability. It is committed to producing high quality, long lasting clothes and has ambitions to further develop new products using innovative materials like mushroom leather.  
In isolation, this score cannot give us full confidence in the strength of Adidas' product strategy. But what we believe it does do is does do is back-up the company's sustainability claims.   

The fashion industry, "fast fashion" in particular, has a significant impact on the environment and society. That's why we developed an objective way to assess how sustainable companies' practices really are. Our own research is an important part of our decision-making process. Where we feel companies fall short of our expectations, we'll engage with them to encourage change.  
A Generation Z perspective on fast fashion from Emmie (Charles' 13-year-old daughter)
"As a consumer, I try to make conscious choices when it comes to clothing but the reality is that I alone can't make those choices. As an individual, my actions mean little to nothing. It's impossible for me to track every material I come across, and to look at its carbon footprint and the supply chain of the company that it comes from.  
"What we really need are industry leaders that are capable of guiding us towards a more sustainable future. They need to stop ignoring the cries of conscious consumers and climate change activists. It's not just about limiting emissions in textile manufacturing and sourcing materials sustainably, it's also about reducing the damage that fashion wants and needs have all the way down the supply chain.
"The industry needs to take responsibility for influencing customers and spark a mindset shift that has repercussions for a global awareness." 
The views and opinions contained herein are those of Schroders' investment teams and/or Economics Group, and do not necessarily represent Schroder Investment Management North America Inc.'s house views. These views are subject to change. This information is intended to be for information purposes only and it is not intended as promotional material in any respect.
Topics
Global Sustainable Growth