Read full report
Multi-Asset Views_FINAL
For 2018, "3" is the magic number for a reflationary environment to continue:
Growth: we expect global GDP growth to remain at roughly 3% over the next two years. 
US 10 year: based on our models, US equity valuations are sustainable as long as the US 10 year yield does not go above 3%. 
Inflation: as we believe that technological disruption and aging demographics are suppressing inflation, we expect an upper limit of "3%" to hold and for the process of monetary normalization to be gradual. 
What could upset the apple cart?
Many would say the answer is "inflation."  One indicator which suggests that growth (and therefore inflation) could surprise on the upside, is that global trade has been picking up.  Another risk comes from wages; although wage growth appears to have been unresponsive to tight labor markets so far, research by the Federal Reserve suggests that the Phillips curve* is non-linear and when the unemployment rate falls below a certain threshold the relationship between unemployment and inflation will re-assert itself and core inflation will begin to rise. When we model these two scenarios ("trade boom" and "inflation accelerates") our global inflation forecast rises from 2.3% to over 3%.  From an investment perspective, this outcome would cause volatility in the government bond markets but would also present an opportunity for more cyclically-exposed, value-driven areas of the equity markets to outperform.
More concerning for us would be a disappointment on the growth front. Developed economies are currently in the "expansion" phase which is characterized by output above trend, growth accelerating and inflation rising. This phase of the cycle is typically benign for equities. The next phase of the cycle is the "slowdown" phase and this is the worst phase for returns. But for now, we think the traffic light is still green but there are three trends we are watching:
Liquidity withdrawal – the authorities in China and US are withdrawing liquidity, specifically any tightening of liquidity too quickly.
Flattening Yield Curves – yield curves are flattening which suggests that bond markets are starting to price in slower growth. This is somewhat at odds with the optimism reflected in equity market valuations. So who's right, the bears or the bulls?
USD – Our expectation is that it's likely to remain weak as the rest of the world is catching up with US growth. If we are wrong and the US dollar strengthens, however, this would put pressure on Chinese growth and would tighten liquidity.
All in all, we continue to be positioned for a reflationary environment with an emphasis on emerging market assets, specifically local-currency, which look relatively cheap. At some point in 2018 however, synchronized global recovery will morph into concerns about synchronized liquidity withdrawal which could introduce market volatility, potentially impacting the global economic recovery. The real surprise for 2018 could be that we end the year with government bond yields lower than today despite being in a tightening environment.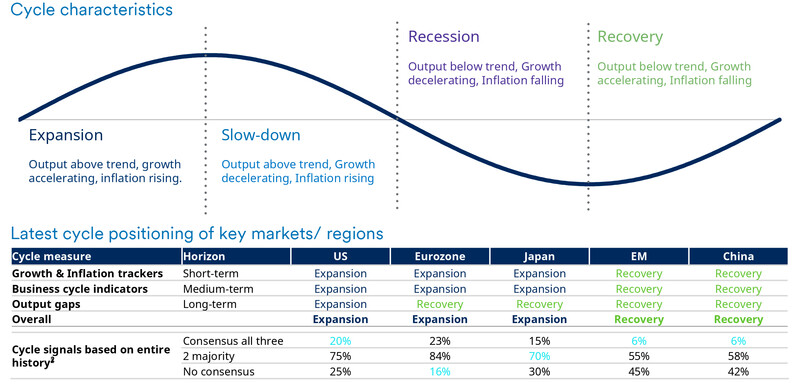 *Phillips curve is used to describe a historical inverse relationship between unemployment rates and inflation rates
For our asset scores, read our full Multi Asset Views
Read full report
Multi-Asset Views_FINAL
The views and opinions contained herein are those of Schroders' investment teams and/or Economics Group, and do not necessarily represent Schroder Investment Management North America Inc.'s house views. These views are subject to change. This information is intended to be for information purposes only and it is not intended as promotional material in any respect.