PERSPECTIVE
3-5 min to read
Sustainable food and water - why the current system needs to be transformed
The food and water system must become more resource efficient and sustainable in the face of mounting challenges. We explain what needs to be done and the investment opportunities it brings.
10-11-2021
The global food and water system will come under intense pressure in the coming years from two separate forces.
Firstly, the world's population is expected to increase from around seven billion today to eight billion by 2030 and nearly ten billion by 2050. Producing enough food for the extra population will be a huge challenge, the WWF estimates that we will need to produce more food in the next four decades than we have in the entire 8,000 years of human history thus far.
Secondly, as it stands the food and water system is not sustainable from a carbon, water intensity, biodiversity, physical waste, and health perspective. The effects of climate change are likely to lead to unpredictable weather patterns, putting additional pressure on arable land and fresh water supplies.
The food and water system itself is responsible for c.25% of global greenhouse gas emissions, and 65% of fresh water usage, meaning it is both a major contributor to climate change and water stress, as well as being a sector that will be severely disrupted by it. Likewise, food and water accounts directly or indirectly for around 60% of the 2 billion tonnes of waste produced globally each year.
But even without these two challenges, it is clear that the current food and water system is not fit for purpose in the nutrition it provides. Currently around two billion adults globally are overweight (measured by having a BMI of 25 or above) and 650 million are malnourished. Additionally, suboptimal diets have long weighed on society, causing an estimated 20% of deaths.
We see three structural changes that must take place to make the food and water system more sustainable:
higher agricultural yields and greater efficiency;
a change in diet and eating patterns;
a major reduction in waste and emissions.
Each of these changes is interlinked and brings with it opportunities for investment returns.
The agricultural opportunity
The growing global population needs to be fed. However, we can't simply use more land to grow extra crops or graze more cattle. In fact, given the importance of trees as a store of carbon dioxide, we may need to start reforesting land that is currently being used for agriculture.
The chart below shows how agricultural production has already become more efficient as the global population has expanded. However, the dashed lines indicate the scale of the challenge ahead.
It's estimated that agricultural output needs to increase 70% to feed 10 billion people by 2050 while using less land. Given pressure on the supply of fresh water, that food output increase needs to be achieved at the same time as reducing the amount of water used.
Technology can provide solutions to this challenge. Take farming methods as an example. Using sensors allows real-time data to be delivered from field to computer, enabling farmers to take a more precise, data-driven approach. Sensors can measure the soil's chemical data (pH, nutrients, carbon content) as well as moisture levels and air flow. This can help increase yields while minimising the need for fertilisers and other agricultural inputs.
The food choice opportunity
Food and water sustainability is not just about how we produce what we eat and drink, but also what we are eating. This means it is not just a problem for farmers; all of us can play our part as consumers by adopting new diets and eating habits.
Health and sustainability concerns are already disrupting traditional diets. Just look at the meteoric rise of the alternative dairy sector. Milk alternatives are not only being adopted by the lactose intolerant but by a wide range of consumers for a mixture of reasons including health, the environment, animal welfare, and flavour.
The success of dairy substitutes bodes well for meat substitutes, which may not be far behind. Currently making up only 1% of the meat market, this technology could realistically mimic dairy substitutes and increase tenfold in 10 years.
A meat-heavy diet is not just bad for our health, but also puts huge pressure on scarce agricultural resources, using large areas of land both to grow food for cattle and for the cattle themselves.
The left hand chart below indicates how, on average globally, we are eating almost twice the amount of processed meat, and less than half the fruit and vegetables, than is recommended for our health.
Similarly, the right hand chart shows how meat – specifically beef – puts huge pressure on multiple resources. Producing less beef would enable land to be freed up for less resource-intense products such as grains and vegetables, allowing a larger population to be fed a nutritious diet.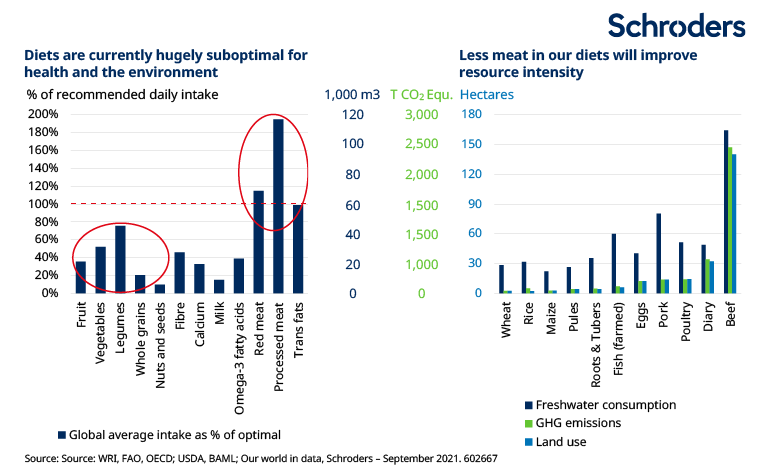 The waste and emission reduction opportunity
Agriculture is currently responsible for c.26% of all greenhouse gas emissions. At the same time, it is a hugely wasteful system: 44% of all crops are lost before consumption.
Again, technology will be a key enabler here, but just as crucial will be government support and policies. Indeed, a recent UN report highlighted that the enormous subsidies to the agricultural sector are not being put to best use. According to the report, 87% of the $540 billion of government support paid to the sector annually includes measures that distort prices and/or harm nature or health. Governments will need to start attaching sustainability criteria to these measures.
Government support measures are starting, in some regions, to be better targeted. Wider access to modern agricultural technology can increase yields and reduce waste. Regulations on pesticides can reduce wider environmental damage. Food waste can also be reduced at the retail level through legally-binding targets.
The EU's farm-to-fork strategy is probably the leading example of how the authorities are starting to take seriously the idea that our global food system needs to be made more sustainable.
Even if we stopped emissions from the energy sectors right now, the GHG emissions from food production would take us beyond our carbon budget for 1.5 degrees. The decarbonisation of the food and water system poses a distinct problem from that faced by the energy system, given the need for viable alternative technologies across agricultural inputs, equipment, transportation and packaging.
Changing weather patterns are already having an impact on food supply. On recent example is how the soaring temperatures in Canada this summer led to drought and wildfires, affecting durum wheat crops. Canada is the world's biggest grower of durum wheat which is used to make pasta and so consumers could face shortages and higher prices of pasta in the coming months. 
How do you access these opportunities?
From an investment perspective, we anticipate that these three structural shifts – higher yields and efficiency, dietary changes, and reduced waste/emissions - will lead to a wealth of opportunities across the food and water value chain.
Everything from land use to animal feed to food production, processing and technology, transport, retail, packaging and waste recycling has a role to play in transforming the system as a whole. Likewise water testing and management, equipment and capture, treatment, infrastructure, and, recycling, will all need to change drastically as this resource becomes more strained.
A huge amount of investment is required to make the system sustainable. We estimate that $30 trillion needs to be spent across the different food and water value chains by 2050. The chart below compares the required investment and the current market capitalisation of companies in certain food and water sectors. As we can see, there is a striking disconnect.
Food and water is an area where problem-solving technology is becoming more widely available, consumers are more aware of health and the environment, and governments are starting to focus on food sustainability, not simply food security.
Brought together, these factors indicate a food and water system on the cusp of dramatic change. And as equity investors, we see potential for attractive returns to be made by investing in those companies with the products and technologies to make this change happen.
Lots of these companies are producing good cash flows but have become lowly-valued because investors perceive the space as "old economy" and unexciting, rather than as offering growth. This is partly as a result of low food prices which mean there has been little investment.
The chart below shows how the food and water sectors trade at a discount to the wider market. We can see the uptick in late 2019 as the EU's farm-to-fork policy was announced, but a discount still remains.
We think that's going to change as the imperative to make food and water sustainable creates opportunities for new sources of growth in companies that many investors may have written off as old economy, in mature sectors.
The views and opinions contained herein are those of Schroders' investment teams and/or Economics Group, and do not necessarily represent Schroder Investment Management North America Inc.'s house views. These views are subject to change. This information is intended to be for information purposes only and it is not intended as promotional material in any respect.
Topics
Sustainable food and water