Real Estate Impact
A real estate impact strategy tackling social inequality, mainly in deprived locations across the UK
Place-based impact
Responding to local needs to deliver place-based positive impact, allocating capital to under-served markets and delivering additionality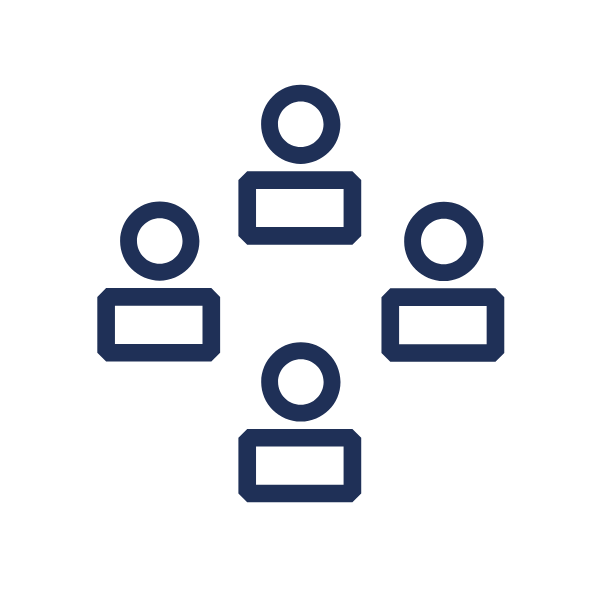 Broad strategy to maximise impact
Investment with intent to deliver positive social and environmental impact in town centres, workplaces and homes
Attractive return target
Clear, measurable metrics to demonstrate both positive social impact in deprived areas and a target net return of 7-8%. This target is not guaranteed
Real estate investment can offer answers to social problems
Social deprivation and inequality exists across the UK. OECD data highlights that the UK is one of the most 'unequal' countries in Europe and that this inequality is increasing. Our real estate impact strategy offers the opportunity to be part of the solution to address inequality between different parts of the UK.
Social inequality in the UK doesn't have a single root cause. However, given how we our lives are impacted by where we live, where and how we work and play and incorporating both education and health outcomes into that equation, we believe focussing on deprived areas can help to address the inherent inequality that exists in the UK.
Additionality and measurable impact are key
Additionality is key. We invest in projects that would not otherwise happen. We invest where traditional capital sources do not, to deliver positive social impact alongside the potential for attractive long-term financial returns. We track progress through clear, measurable metrics and an annual assessment from an independent impact consultant, with the results published each year.
Diversified across sector, impact and geography
The strategy focusses on high quality affordable housing and revitalised mixed-use town centre schemes incorporating residential, retail, healthcare, education and workplaces, supporting improved employment and training opportunities in areas defined as deprived by the UK government's Index of Multiple Deprivation. By working closely with local stakeholders, charities and community groups, we aim to deliver both positive impact and contribute to environmental sustainability.
Clear, measurable impact metrics
We leverage our long-standing sustainability and impact knowledge and expertise from across the Schroders Group and BlueOrchard (our specialist impact business). Our Impact Committee comprising impact specialists, which operates alongside the traditional Investment Committee, seeks to deliver enhanced governance to ensure assets are accretive to both financial and impact targets.
We believe investors that share our ambition to create resilient and sustainable market returns require transparency. Therefore, we have set clear, measurable impact metrics to demystify what progress means and help us demonstrate that impact can be quantifiable and transparently reported. Whilst integrating sustainability is part of our DNA at Schroders, we believe impact targets are also critical for real estate – the tangible solutions that can reduce social problems.
The Schroders Capital Real Estate Impact Fund is seeking to acquire, repurpose and/or develop properties to deliver place-based impact as well as an appropriate financial return. Schroders Capital Real Estate requires all its owned and managed assets to comply with sustainability objectives so the Fund will also ensure each property's sustainability credentials are optimised. To ensure properties could meet the Fund's objectives, assets will be evaluated using the Fund's Impact Scorecard to ensure consistency and transparency from a sustainability, impact and financial perspective. Full details on the Scorecard and its interaction with the investment process, portfolio construction and reporting is available for all investors and can be found in the Fund's data room. For access to this, please contact the Fund's Product Manager, Lydia Merry.
What is place-based impact investing?
Place-based impact investing can help real estate investors deliver clear and measurable improvements to deprived areas. But how does it work?
Can real estate investment help narrow geographical inequalities in wealth?
The wealth gap between the wealthiest and poorest is significantly bigger in the UK than other advanced economies. Why? And can real estate investment help fix it?
Life after death: how to reinvigorate UK high streets
Rising shop vacancies can be damaging for town centres. Innovative, impactful real estate investment can kickstart regeneration while tackling key social issues.
A step-by-step guide to measuring social impact in real estate
There's no benchmark for social impact investing, but investment is gaining traction. We explain how we measure place-based impact.
"Real estate is uniquely placed to help address major social inequalities across the UK. Through our focus on deprived areas and responding to the local needs of communities and locations, we believe we can also deliver long-term financial value for investors. We believe real estate with positive social and environmental features is less likely to suffer from obsolescence and will support values, and improved economic prosperity, in the long-term."
Fund Manager, Positive Impact Investment, Real Estate, Schroders Capital
Key Investment Risks
Real estate strategy
Real estate investment is subject to a variety of risks including general economic conditions, availability of and competition for relevant real estate assets, increases in property taxes, environmental risks, changes in laws (e.g. environmental and zoning) and changes in the financial condition of tenants, buyers and sellers of properties, all of which are beyond the control of Schroders Capital.
Pricing, liquidity and valuation
Investments in real estate are illiquid and more difficult to realise than other assets such as equities or bonds. In addition, valuations of real estate are subject to uncertainty and are a matter of an independent valuer's opinion. As a result, the price at which an asset in the Fund is valued may not reflect the actual sale price of that asset.
Development risks
The Fund may invest in development assets which may be subject to risks including those relating to availability and timely receipt of planning and other regulatory approvals, the cost and timely completion of construction, general market and letting risk, and the availability of both construction and permanent financing on favourable terms.
Tenant risks
The distributions payable by the Fund are dependent on the income from the underlying property owned and are subject to the risk that tenants may default on their rental obligations.
Concentration risk
The Fund's investments may be concentrated in a limited number of geographical regions, industry sectors, markets and/or individual positions. Concentrated portfolios are more likely to experience large changes in value, both up and down, due to specific factors having an impact on a large proportion of assets.
Leverage risk
The Fund expects to use leverage including in the form of asset-level borrowing.Leverage can increase returns but, in the case of underperforming assets or a falling market, it can also result in large losses.
Impact risk
Factors outside of Schroders Capital's control may mean that the Fund does not deliver the social impact that it seeks. In addition, where the Fund is able to deliver positive social impact, it may not always be possible accurately to measure the extent of this impact due to the evolving nature of impact measurement and the difficulties inherent in collecting relevant data.